Melting Away Anxiety with Oral Sedation Dentistry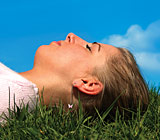 If just thinking about a dental appointment results in overwhelming fear or anxiety, then relax—there is great news for you! Oral sedation allows you to relax both your mind and body so that you can focus on feeling peaceful rather than anxious. The first step for addressing this problem is to make sure you communicate your fear and anxieties to our team. In addition to a variety of prescription oral sedatives, we may feel inhalation conscious sedation (nitrous oxide/oxygen sedation) will work best for your specific dental visit.
From: Dear Doctor
Comments are closed.